Everything you need to know about the IES Professional Learning Marketplace
IES stands for International Education Solutions. We provide all kinds of solutions for international schools in todays challenging times for school leaders and teachers. One of the solutions we are most proud of is the Professional Learning Marketplace, where we offer a variety of courses with a proven track record of benefiting international school teachers, so that they can confidently choose from any of the courses and know that they come highly recommended by leaders in the international school sector.
What was the idea behind the Professional Learning Marketplace?
Every year we interview hundreds of international school leaders throughout Asia and a common challenge we hear from them is just how difficult it can be to find good, reliable online professional learning courses for their educators, that are relevant, rewarding, and work well in the international context.
We noticed that many international schools have great difficulty locating quality professional learning courses that are tried and tested, so we felt we were uniquely suited to resolve this. Through our vast network of school leaders, we have been able to establish which online courses work successfully. The team at IES decided it would be a great idea to create a one-stop marketplace for all the best professional learning solutions out there.
Recommended professional learning courses in one place
We research the courses that work best for international schools, that have all come highly recommended by international school staff. We make sure that every course provider on our professional learning marketplace has previous experience working with an international school and their specialists are able to support the professional development strategies and goals in schools.
 Easy to find relevant courses to suit your needs
At IES, we make it easier for international school leaders or teachers to look for their professional learning courses, by categorising the courses into 4 categories.
● Professional learning courses for LEADERSHIP
● Professional learning courses for PRIMARY SCHOOL
● Professional learning courses for  SECONDARY SCHOOL
● Professional learning courses for the WHOLE SCHOOL
You can also use the search function to find the specific course you are looking for.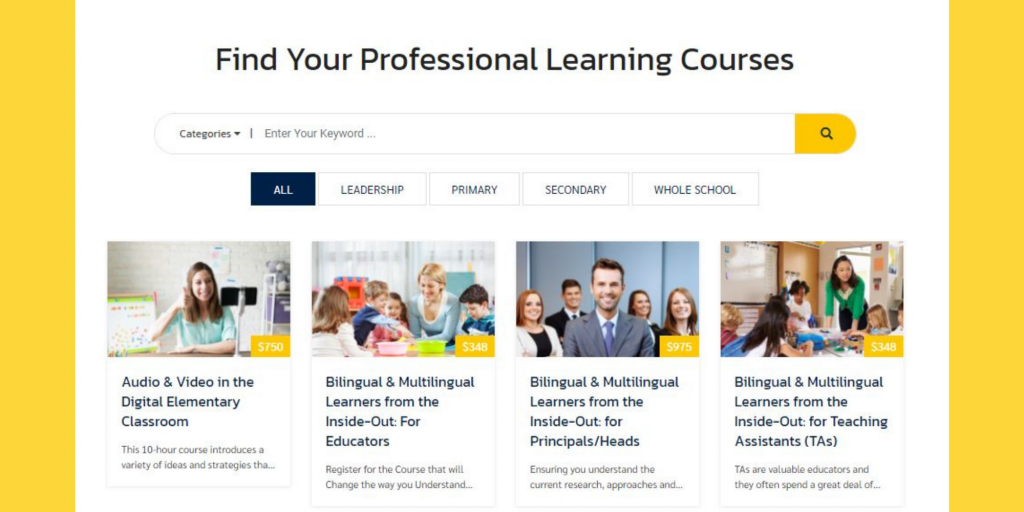 Supporting schools to find excellent course providers
Our aim is to connect quality course providers with schools looking for great professional learning courses. We believe that through carefully selecting only those providers most suitable for international schools, our professional learning marketplace supports schools in maintaining an effective professional development plan.
What courses are available on the Professional Learning Marketplace?
Want to recommend a professional learning course or share your experience?
If you have had a great experience with an online professional learning course and wish to share your experience with the international community, please feel free to recommend it to us or if you are a professional learning course provider with a course that could benefit international schools, please let us know at [email protected]
Author: Gale Triphop