Cloud-based school management solution for International schools
iSAMS is a 100% web-based school management system for schools worldwide. Their innovative solutions are now trusted by over 1,000 schools in more than 85 countries. iSAMS provides schools with an effective system that enhances every aspect of school life – from supporting the rapid growth in student enrolment with an advanced admissions software and streamlining financial management with a powerful accounting tool, to managing essential academic and pastoral student data. Offering compatibility with multiple curriculums, iSAMS also helps to improve communications with parents and students by sending them vital information via iSAMS' multilingual mobile Apps and Student/Parent portals, available for iOS and Android devices.
Accessible Anytime. Available Anywhere. Increase Efficiency.
An effective MIS can play a key role in the success of an International School. iSAMS provides a modular, bilingual system that grows as your school evolves, allowing you to build a system for your exact needs: from foreign student enrolment to end-of-year exams, timetabling, HR, academic reporting, student wellbeing and financial reporting.
Academics
A complete set of modules to support the foundation of your school academics, right from managing exams, tracking and reporting on student performance, school reporting through to timetable management. Giving your staff the right tools to efficiently do their job.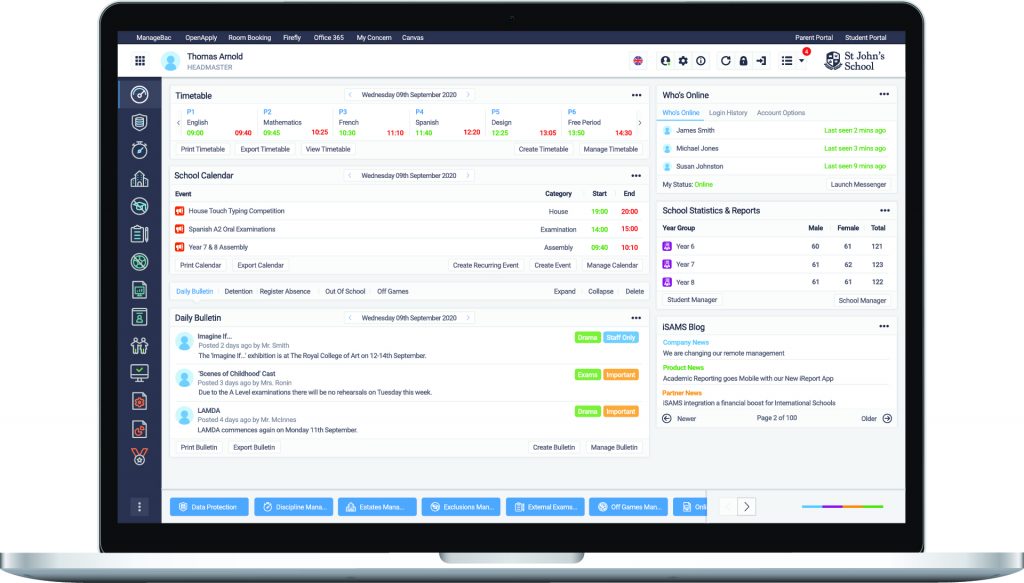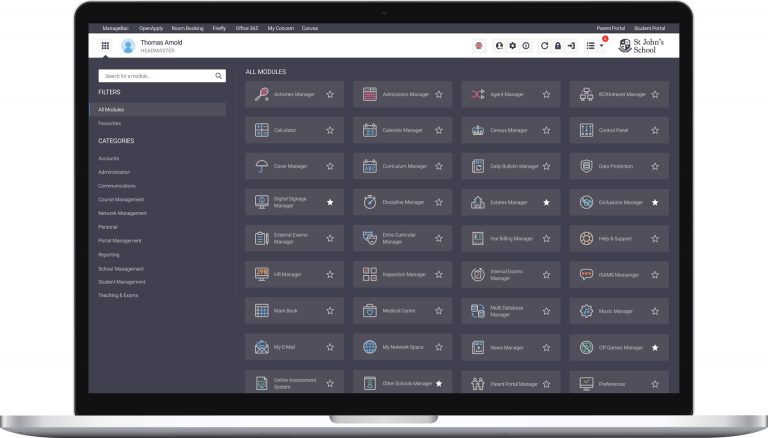 Administration
At the core of a successfully run International school is the easy access to, and processing of, administrative tasks to support the community. Our suite of modules includes everything from student profiles, registrations, HR, and census right through to data protection, allowing your administration office to take complete control over your schools' operations.
Admissions
A streamlined and efficient way to manage your school's foreign student enrolment process online. A paperless online enquiry form sits on your school's website where data is continuously and automatically synced with your MIS. Real-time reporting to track, monitor and report on every application and automated email notifications for parents and staff.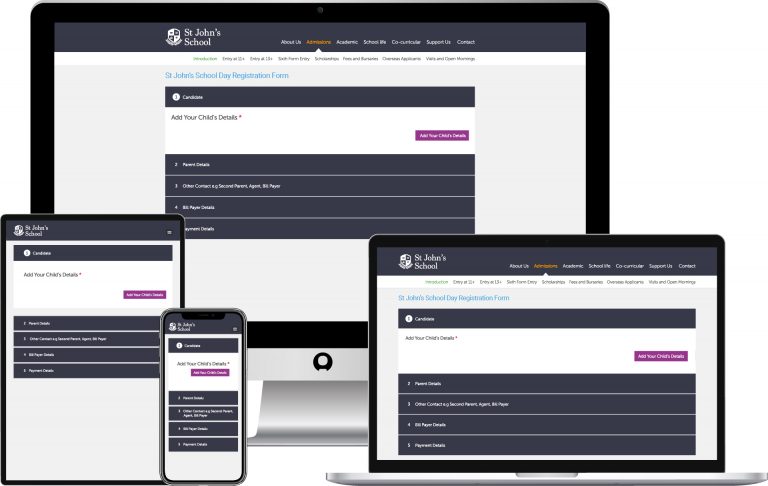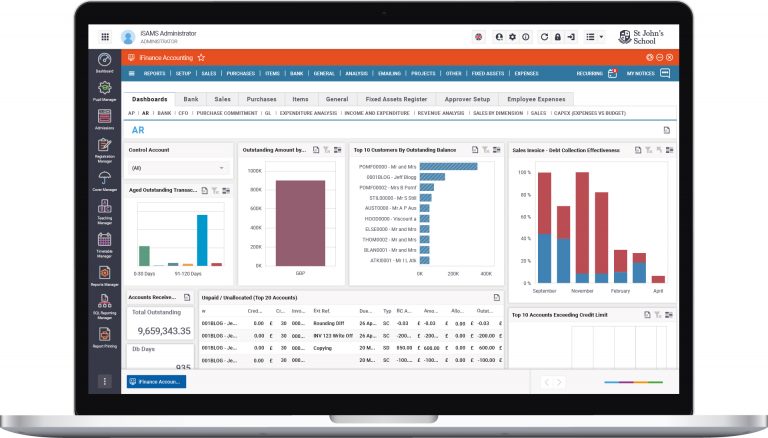 Finance
A fully integrated finance solution comprising of accounting, fee billing, consolidation and business intelligence with multi-currency support and recurring invoicing, accruals and prepayment capabilities. Developed specifically with the Bursary in mind, bring your academic, wellbeing, administrative and fee billing elements together.
Wellbeing
Ensure every student has a positive experience in their pathway to higher education with our Wellbeing Manager module which enhances the effectiveness of recording, monitoring and managing student concerns and wellbeing, giving you the right data to provide proactive, preventative pastoral care.
So, what can iSAMS do for your school?
Enable your staff to effectively complete their work from anywhere and anytime, with a 100% web-based, single interface. Enjoy the benefits of using a single core database to inform, aid and audit every area of school life.
Give your administrators and teachers a system that supports multiple curriculums (including the British National Curriculum, IB and more) and international educational programs.
Boost student enrolment, with integrated and paperless online admissions process. This customisable form sits on your school's own website, with data automatically being pulled into your MIS and any relevant registration fees being paid directly online.
Streamline your financial management with our fully integrated fee billing and accounting system. Saving your Finance Team valuable time, our powerful iFinance platform was designed to support your financial reporting to help inform strategic decision-making.
Improve communications with parents and students by sending them vital information via iSAMS' multilingual mobile Apps and Student/Parent portals, compatible with iOS and Android devices.
Benefit from round-the-clock support, with iSAMS Support Centres based in multiple time zones and a dedicated Customer Account Manager for your school.
What our schools say about us
"I would say buy iSAMS. I would recommend it highly for independent and international schools. I can't think of an MIS system that would do a better job. In particular the school is delighted with the way iSAMS has turned reporting around by streamlining data, and the ease of use in day-to-day management of the school. We can now provide a better education for our pupils"

New English School, Kuwait
"Gone were the days of a Head of Year waiting for someone in Admin to print them a simple Year Group list, or the PE Staff asking me for a complex output report of medical/dietary issues to take with them on a Sports Trip. Now our staff could get all the information they needed themselves and with minimal training. In fact, the more adventurous staff were so excited by this newfound capability they were demonstrating many of the invaluably useful features they had found to one another."
Aloha College, Marbella
"When we set out on our journey to implement a new accounting system for the Kingsworth Group of Schools, ease of use, integration with our MIS, friendly relations, and great customer service were top of our pre-requisites. With iFinance, we have all of that and more."
Kingsworth Group of Schools
iSAMS Management Information System for Schools - New User Interface (UI)